Writer, Memoirist, Reminiscence Arts Facilitator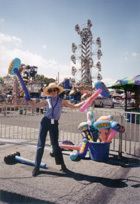 When I was the littlest carny kid with Colbert's Fiesta, I was a pro at calling people in to play my mom's balloon dart and my dad's spot game. Today I'm a New York-based writer who has successfully pitched hundreds of story ideas to editors. My writing has appeared in such consumer magazines as Art & Antiques, Islands, Ms., and Travel + Leisure; art publications including Art New England, New Art Examiner, and Raw Vision; amusement industry trade publications Amusement Business and IAAPA Funworld; and custom magazines produced by Pace Communications and Haymarket Publishing. Excerpts from my carnival memoir have been published in Boston Review, Provincetown Arts, Shocked & Amazed, and Yankee.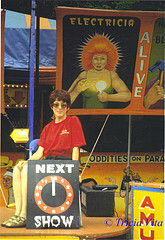 My specialties include entertainment, the arts, and quirky subjects that evoke the razzle-dazzle of the midway. To read an archived feature about growing up as a carny kid, Coney Island's sideshow, Nathan's hot-dog eating contest, the Great Houdini and more, click on the Publications link above. You'll find cover stories and archived memoirs and features on circus and sideshow, art and attractions, historic preservation, and unusual travel destinations.
I have a Certificate in Reminiscence and Life Story and create and facilitate reminiscence activities at senior centers and via Zoom and record oral histories for the Coney Island History Project. I was awarded a Lower Manhattan Cultural Council Creative Learning Grant for designing and teaching "The Art of Reminiscing." The ten-session reminiscence arts activity was conducted via Zoom for Greenwich House Center on the Square Senior Center.
I've worked as a literary scout in New York for the Japanese publisher Shueisha and translated One Thousand and One-Second Stories (Issen ichibyo monogatari) by the Japanese Dadaist Inagaki Taruho. The Ten-Woman Bicycle, a children's book, was excerpted in Ms. and published by presses in England, Holland and Sweden. My work has been translated into seven languages.


For eight years, I wrote and published the blog Amusing the Zillion: A former carny kid casts an insider's eye on the amusement business, Coney Island, and fun places in between. It was a leading source for news about Coney Island, garnering frequent mention of "as first reported by" and referenced by a spectrum of blogs and dailies including the New York Times and New York Daily News.
I am a member of the Authors Guild and the International Independent Showmen's Association.